our vision
Action is underway to replace our 100-year-old facilities and build a new Vancouver Harbour Light that is intentionally designed to better support clients and the community today and into the future.  This will transform a facility that constrains what is possible into one that unleashes individual and community renewal.
The new, modern, custom-designed Vancouver Harbour Light is being built purposefully to support clients in their journey to healthier, happier lives in society. Welcoming and safe for clients, staff and the community as a whole, the facility will support evidence-based programs and services, provide a wider range of community services and keep pace with the community renewal movement currently taking place on the Downtown Eastside.
Our Vision is to transform a community, one person at a time.
Take a Virtual Tour Today
The new Vancouver Harbour Light will offer the opportunity to:
Support Development Of Life Skills Necessary For Long-Term Success Through:
Flexible spaces supporting clients as they grow skills for day-to-day living, conflict resolution, employment and more.

Dedicated vocational training program spaces that complement and expand on existing training programs.
Better access to a larger learning centre, a vital resource for people seeking to enhance literacy skills or upgrade their education.

A coffee shop providing barista and hospitality training.

Volunteer training space enabling clients to expand work skills and experience.
Strengthen Our Comprehensive Continuum- Of-Care Model With:
Multi-purpose and custom-designed spaces that enable professional staff to offer leading-edge, holistic care that responds to clients' changing needs.
Dedicated space for spiritual guidance and healing.
Meals, shelters, counselling under one roof.
Center On Clients' Diverse Needs And Meet Increasing Demand Through:
More addiction treatment spaces.

Space for Indigenous Peoples that respects traditions and forges cultural connections.

Better access for people with mobility challenges.
Connect To Community With:
Significantly expand our community meals program, allowing to serve up to 180,000 people annually.

More opportunities for community use of the facility, fostering bonds between clients and society.

Building design that better integrates into the neighbourhood and supports community renewal.
Be A Welcoming, Safe Place For Clients:
A brighter, more home-like feel.

Increased privacy and security for all clients, staff, volunteers and guests.
Informal gathering spaces that enable people to relax and belong to a wider community.

More natural light and fresh air inside, with access to green space outside.
Building Her Tomorrow
A dedicated space for women, reviving the Women's Treatment Program, to offer services and support tailored to the unique needs of women.
18 treatment beds and 4 fully self-contained transitional rooms with full private kitchen.
Wrap around services that include group and individual counselling, arts and recreational activities, educational and vocational training.
A generous sized lounge area, dedicated flex meeting and program room, 24-hour on-site support staff, counsellors' offices, and medical room.
Private indoor and outdoor spaces for quiet time, self reflection, or social interactions.
The Building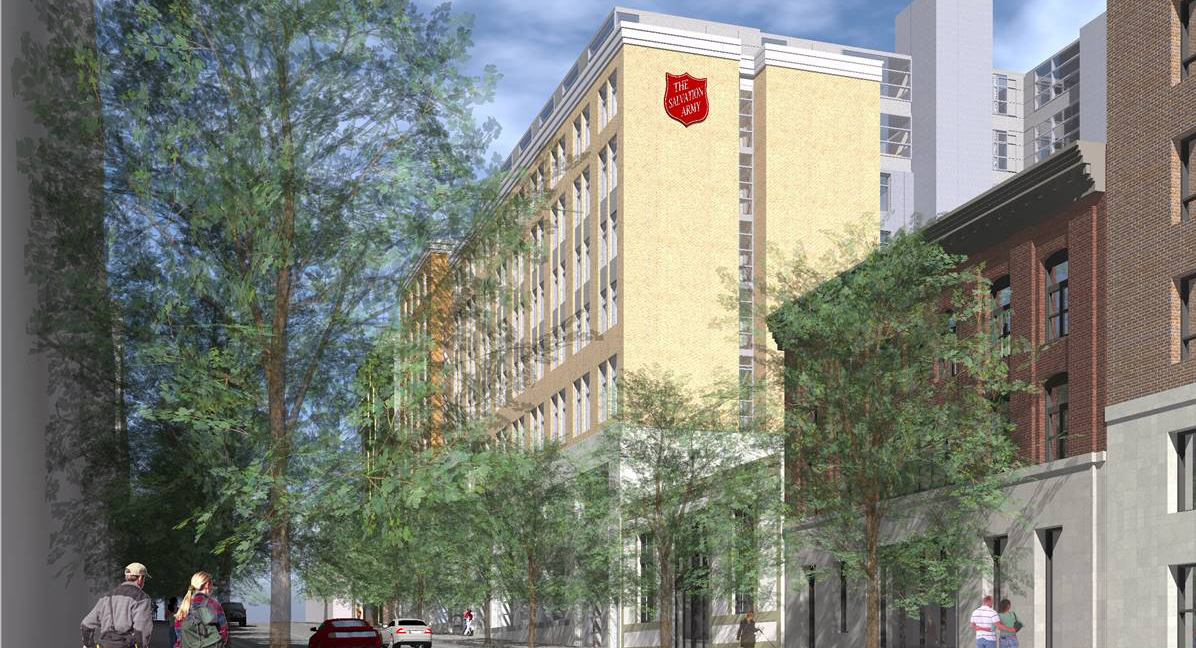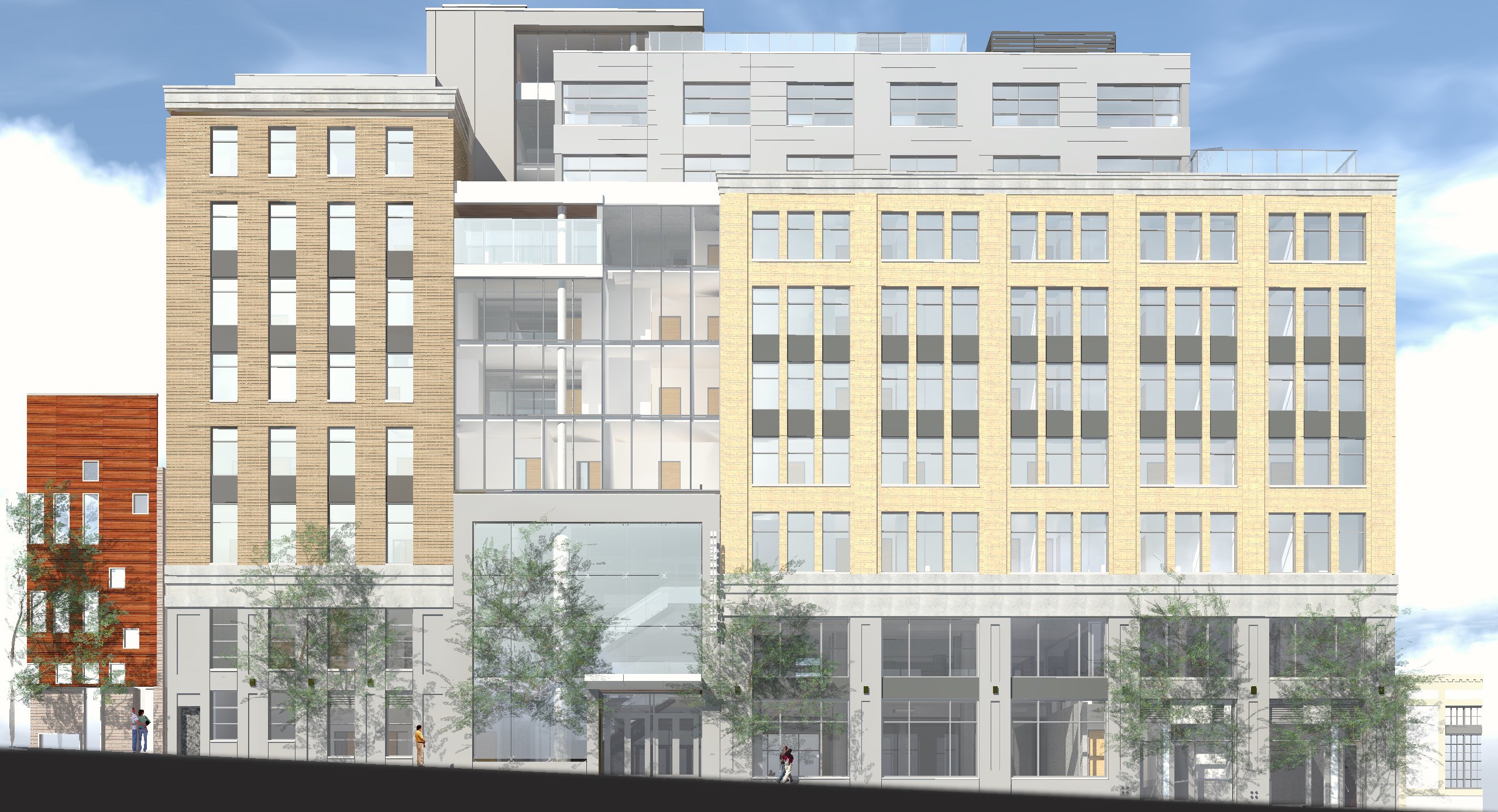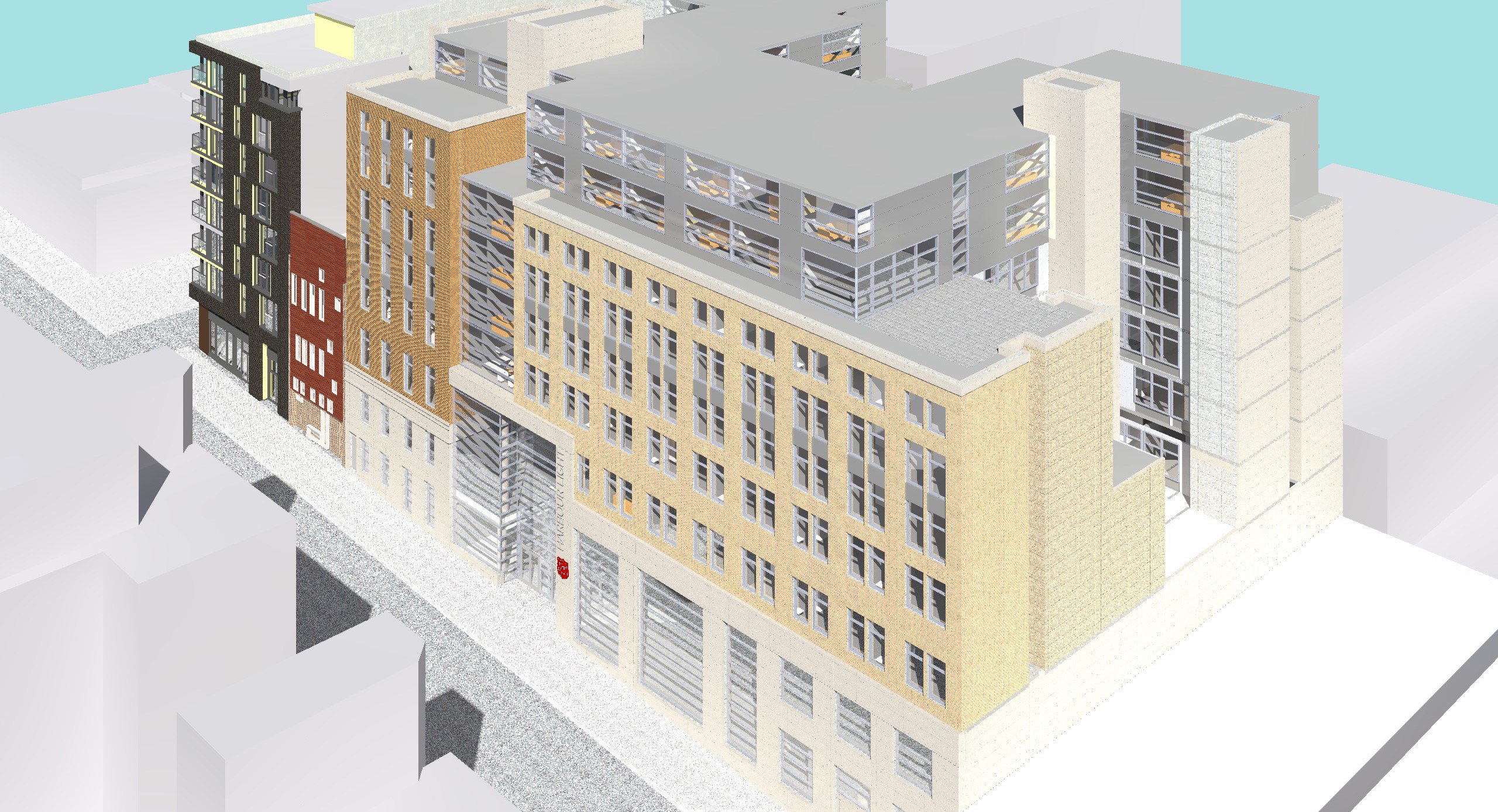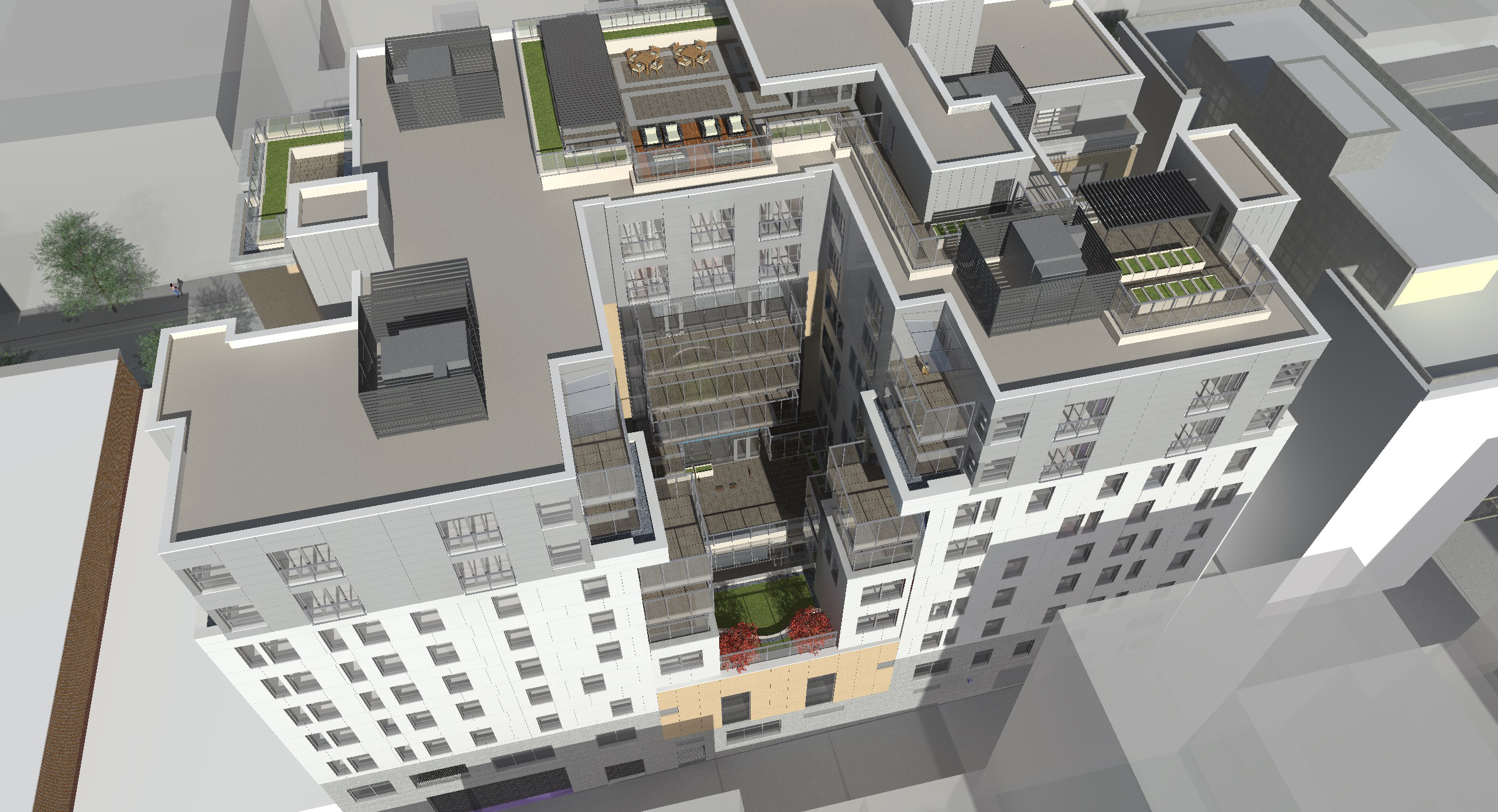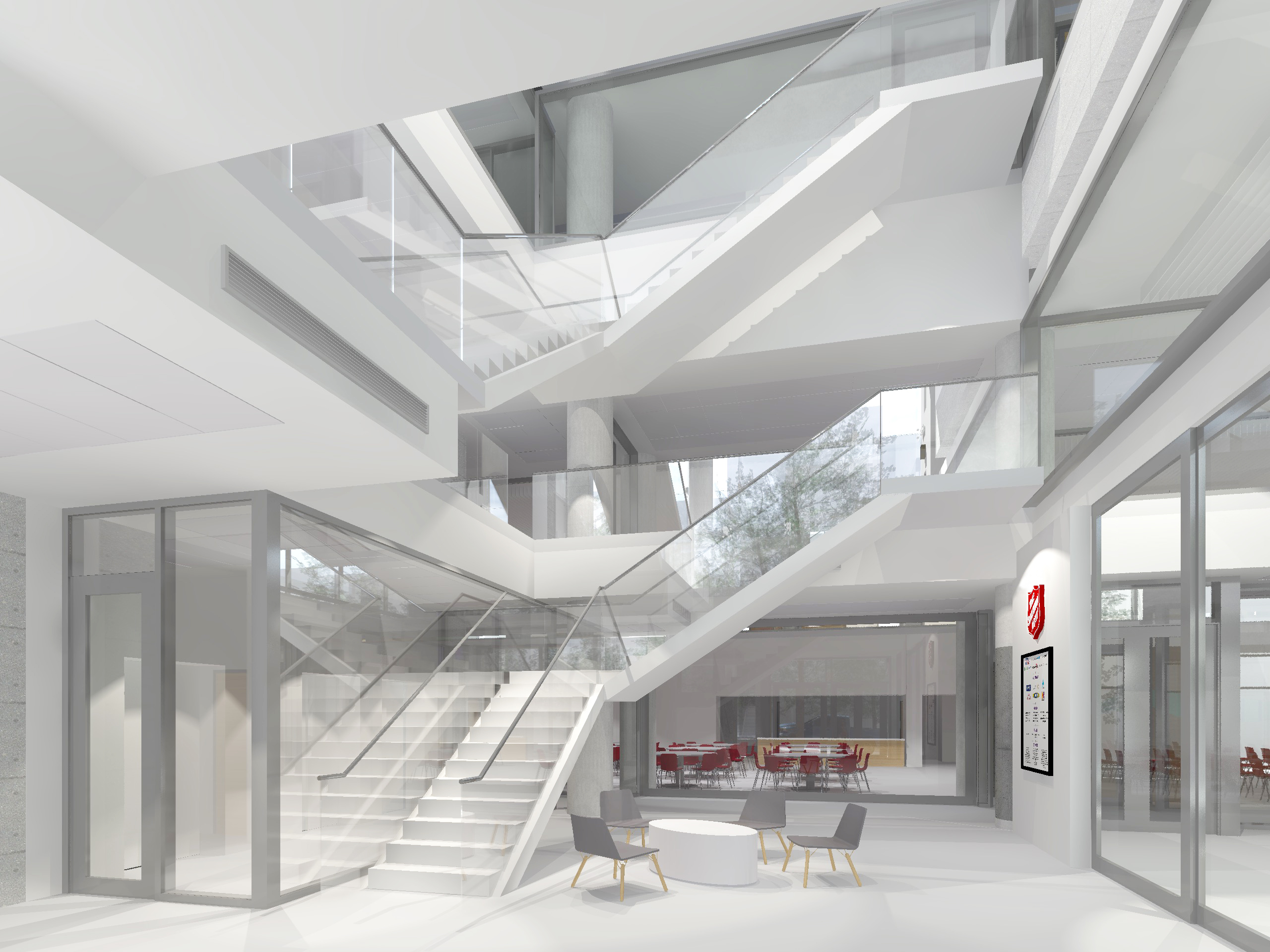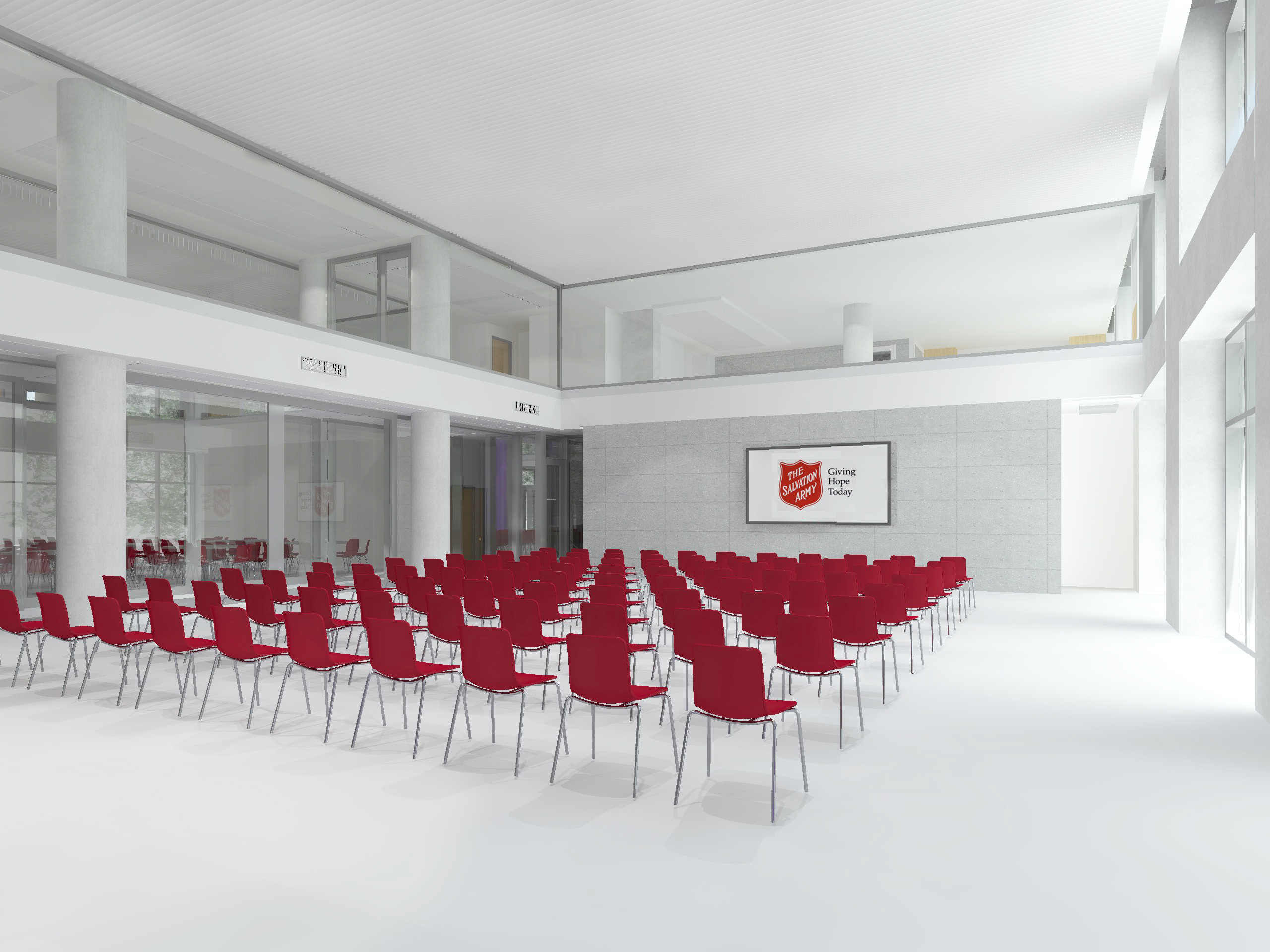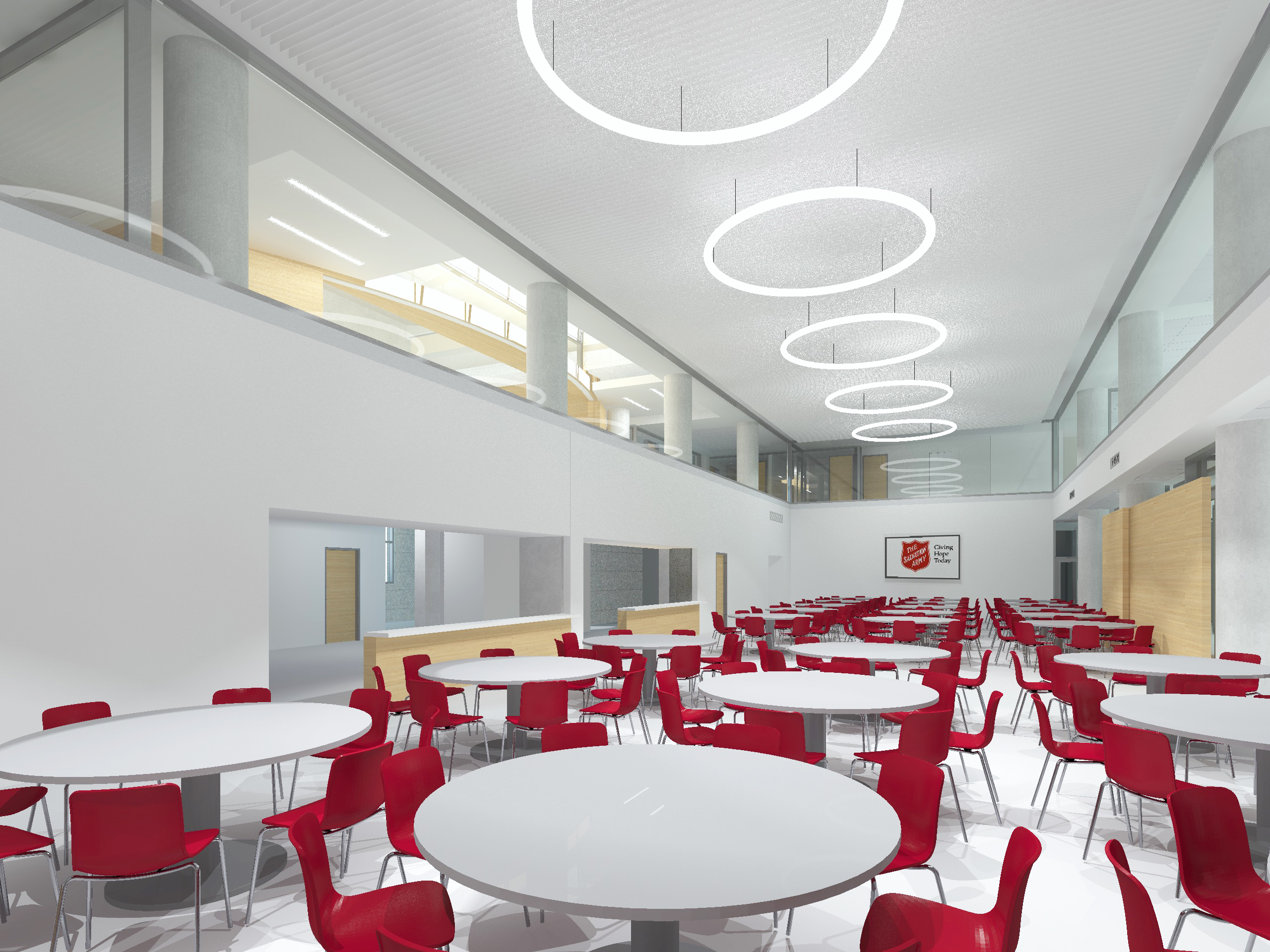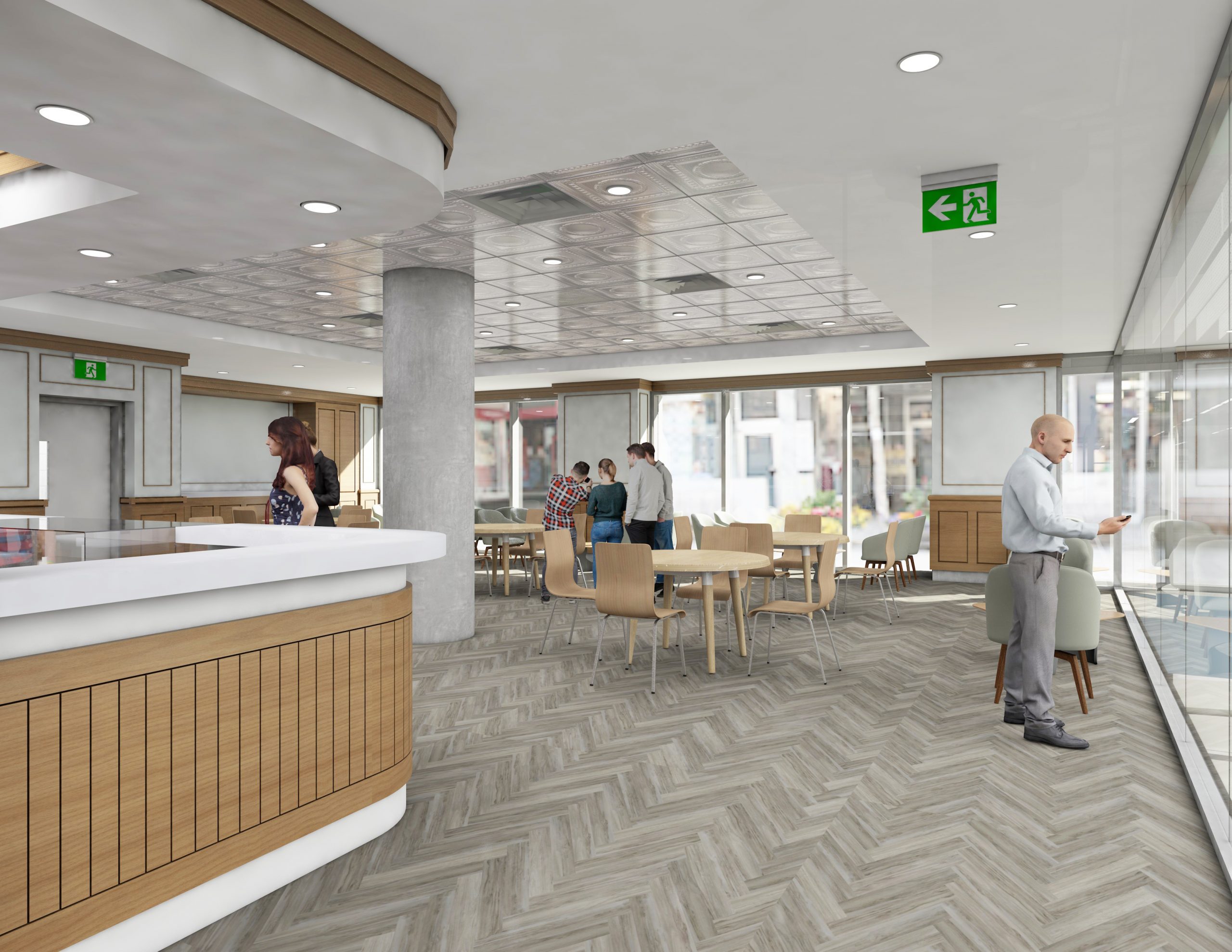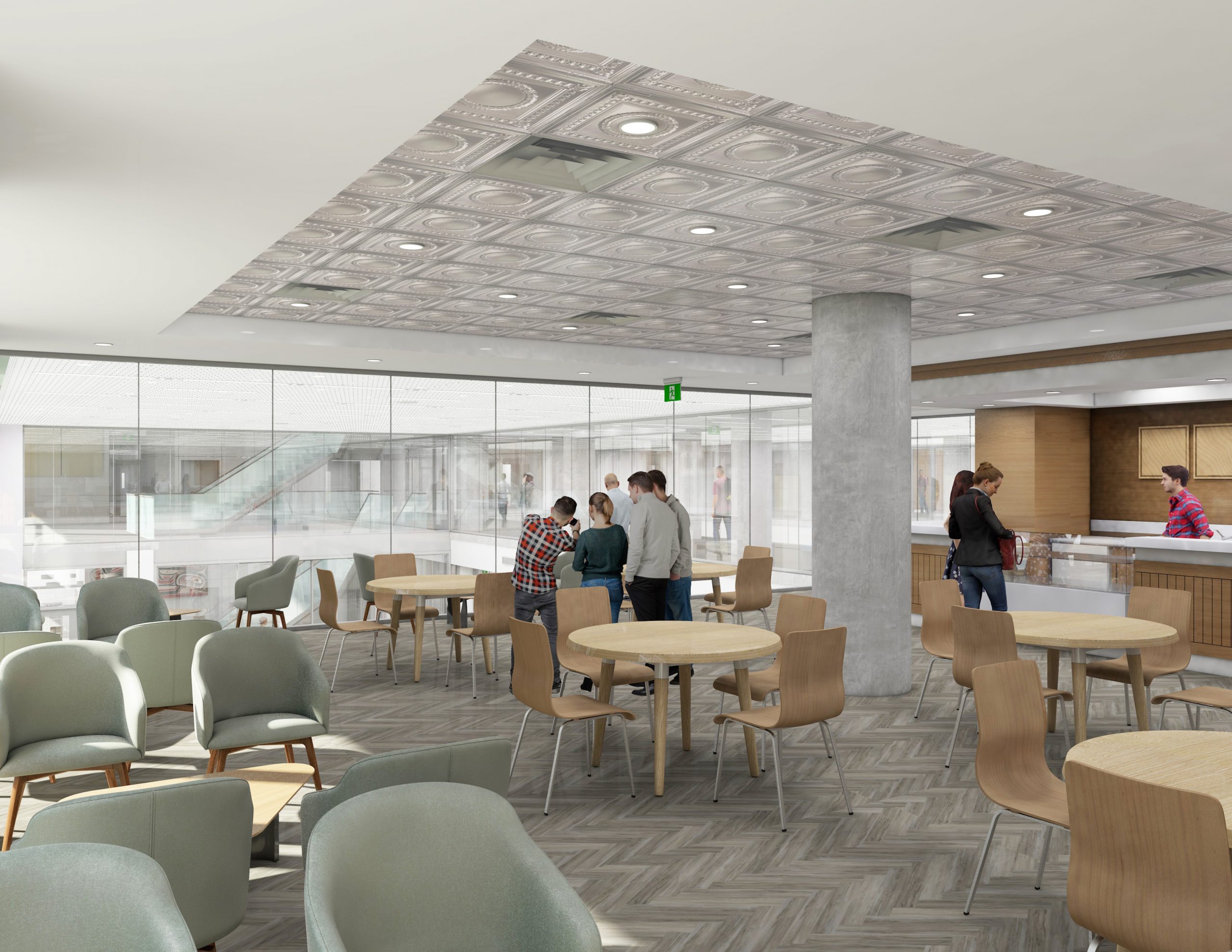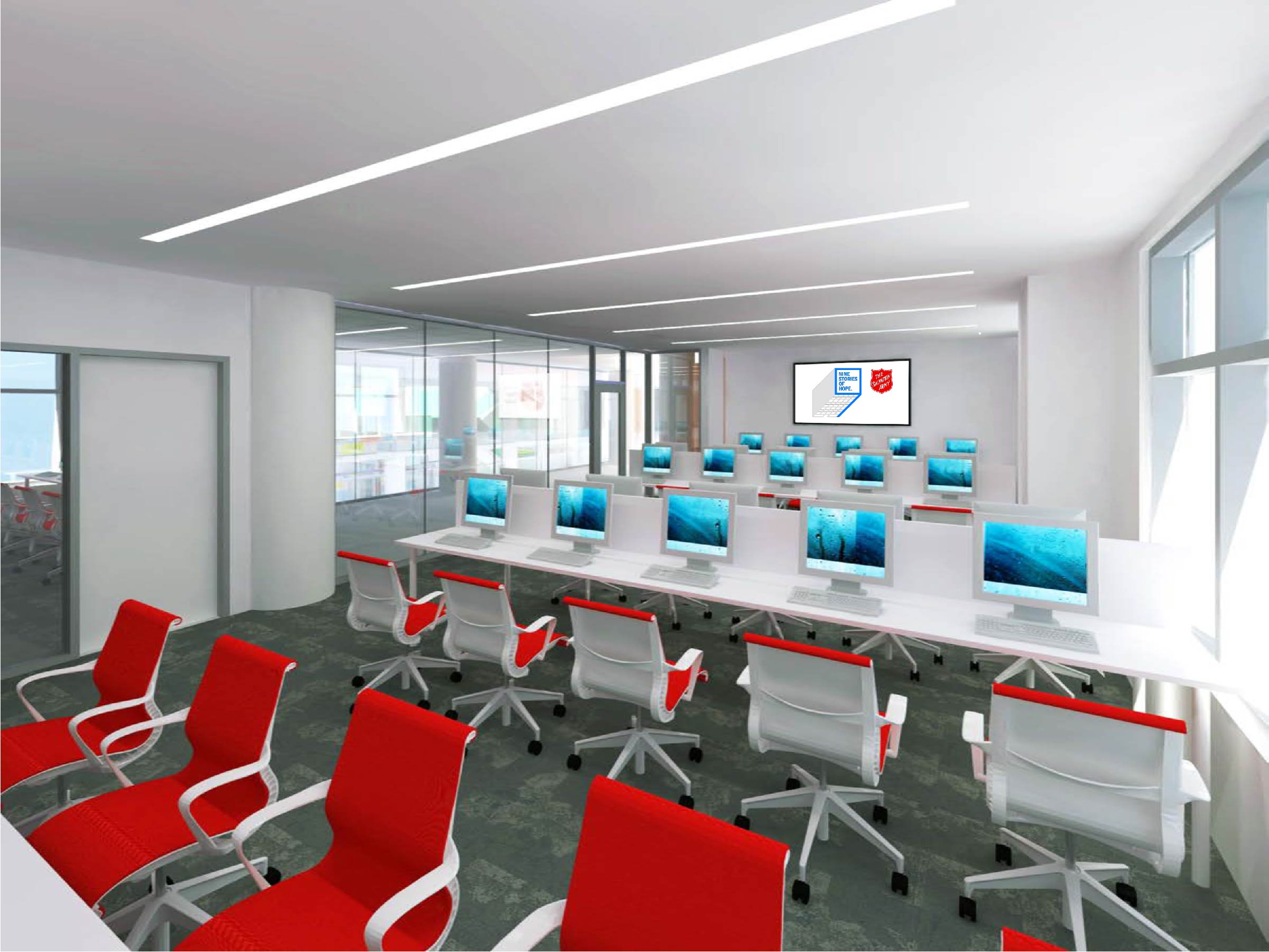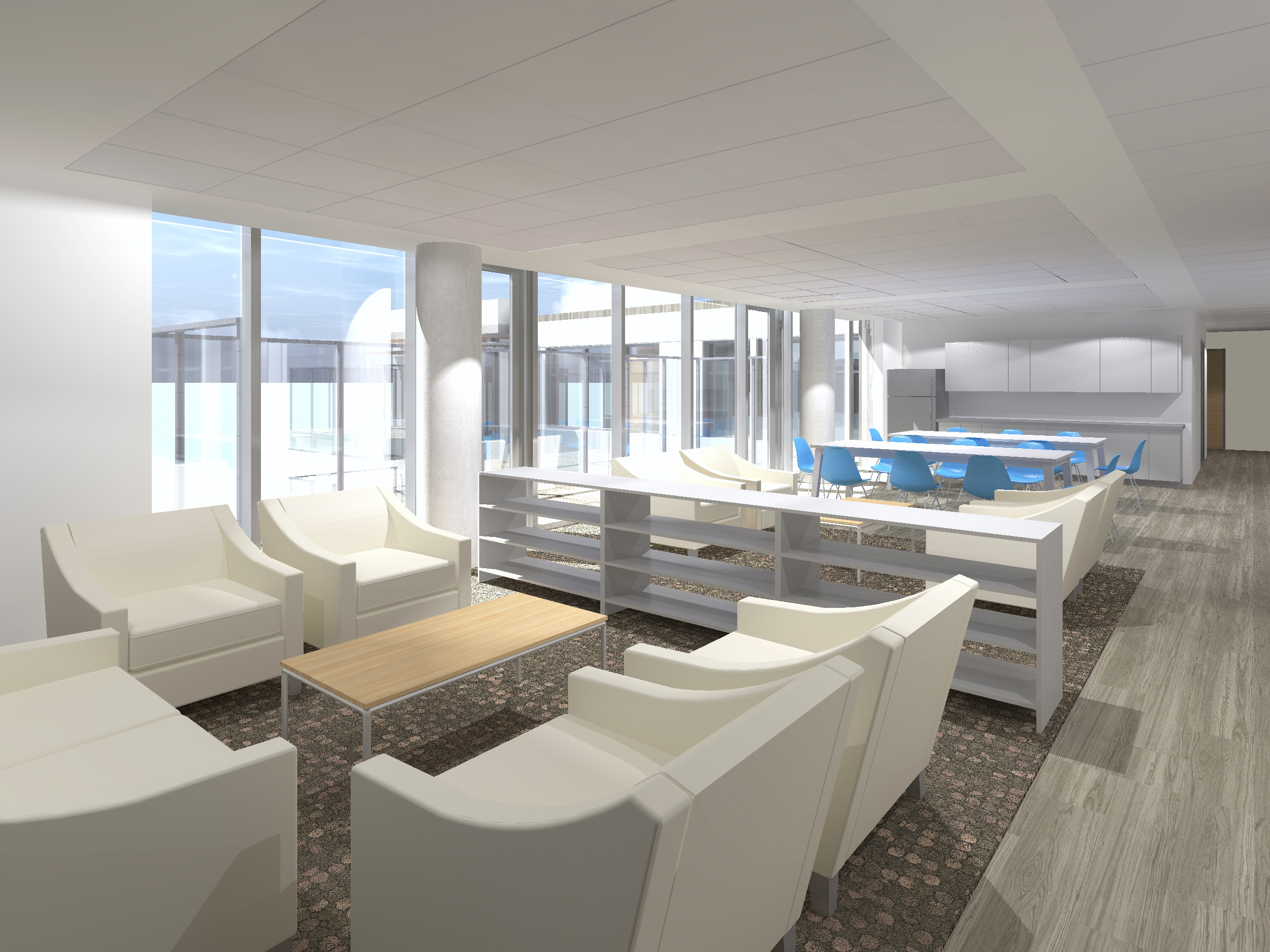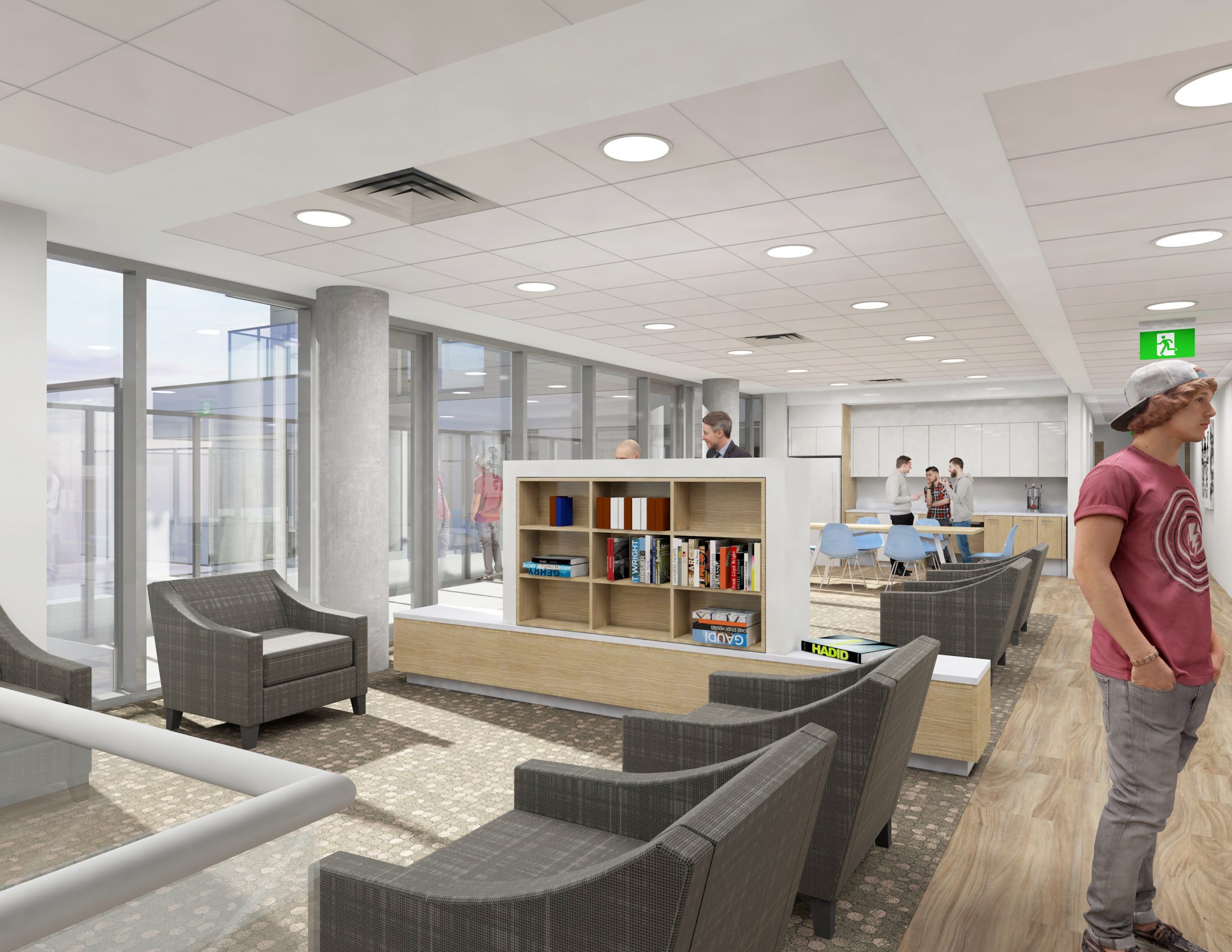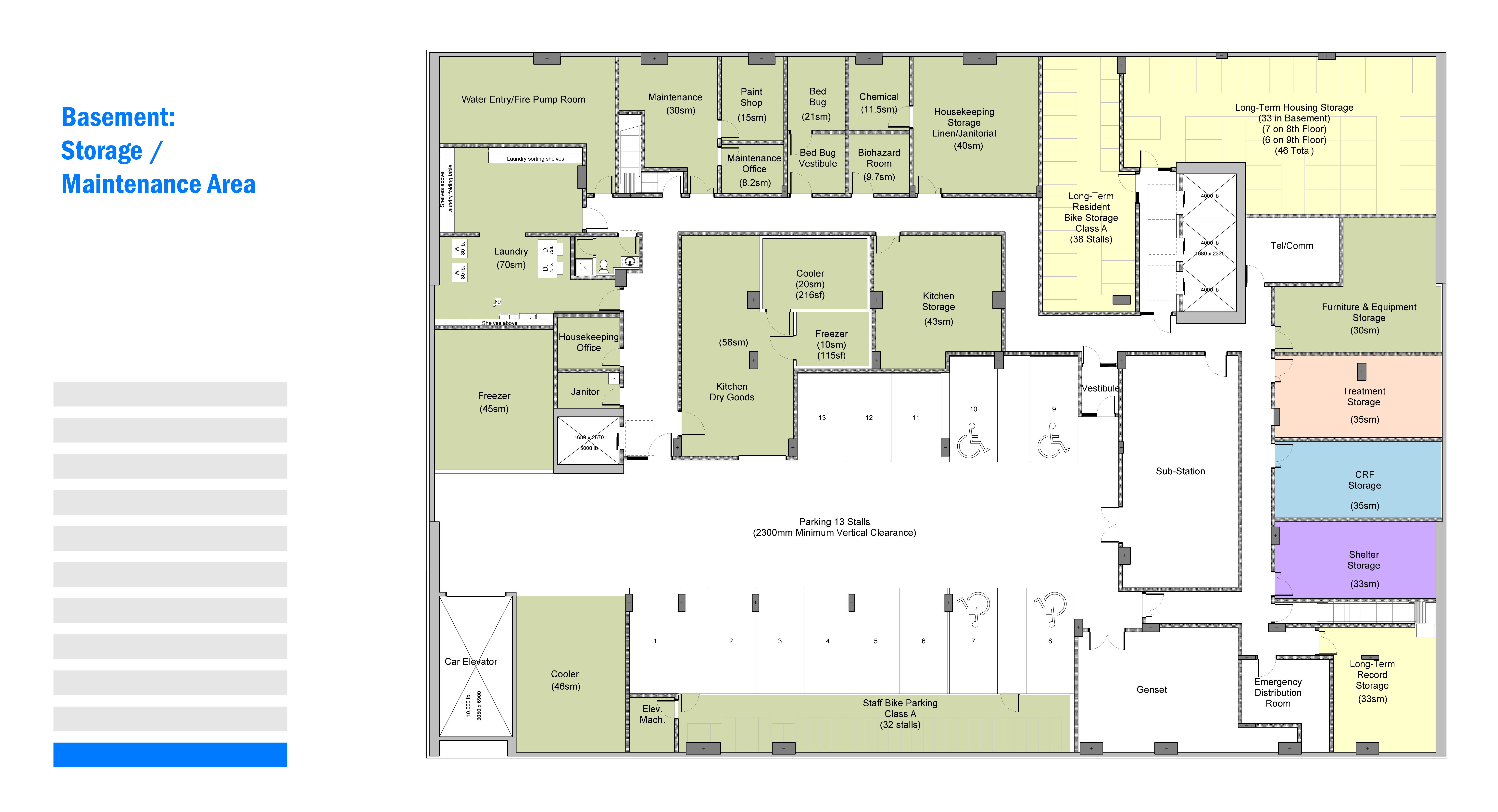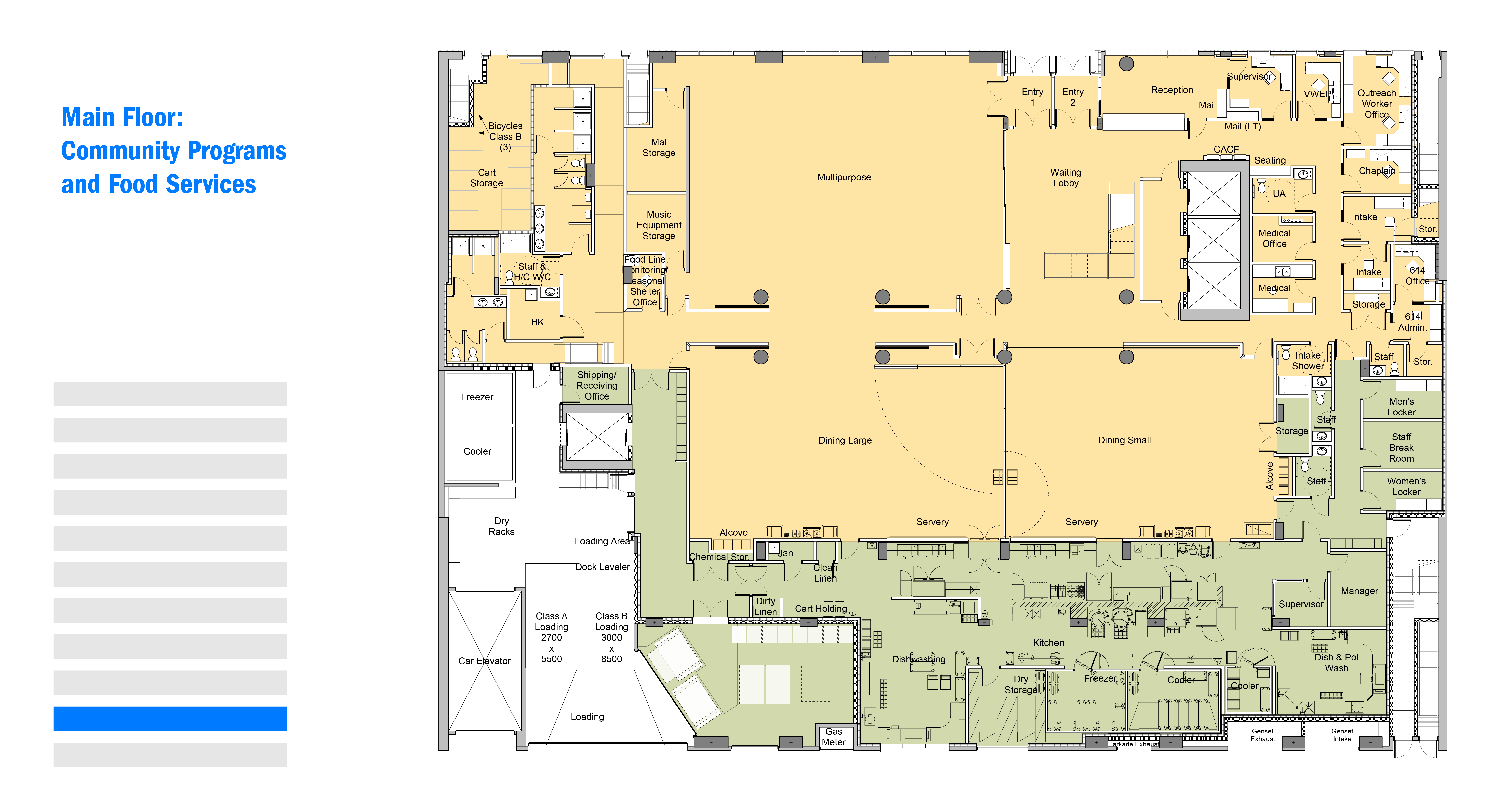 The main floor will be a center of community with multi-purpose meeting spaces to deliver a range of client health services and other community-driven initiatives. Large multi-purpose room, two spacious dining rooms, cart storage, medical exam room, and modern kitchen. This area will also be the hub of the Community Meals Program. The floor will also be home to our largest community service – the preparation and provision of free, hot, nutritious meals. The new space is projected to serve over 180,000 meals to the community annually.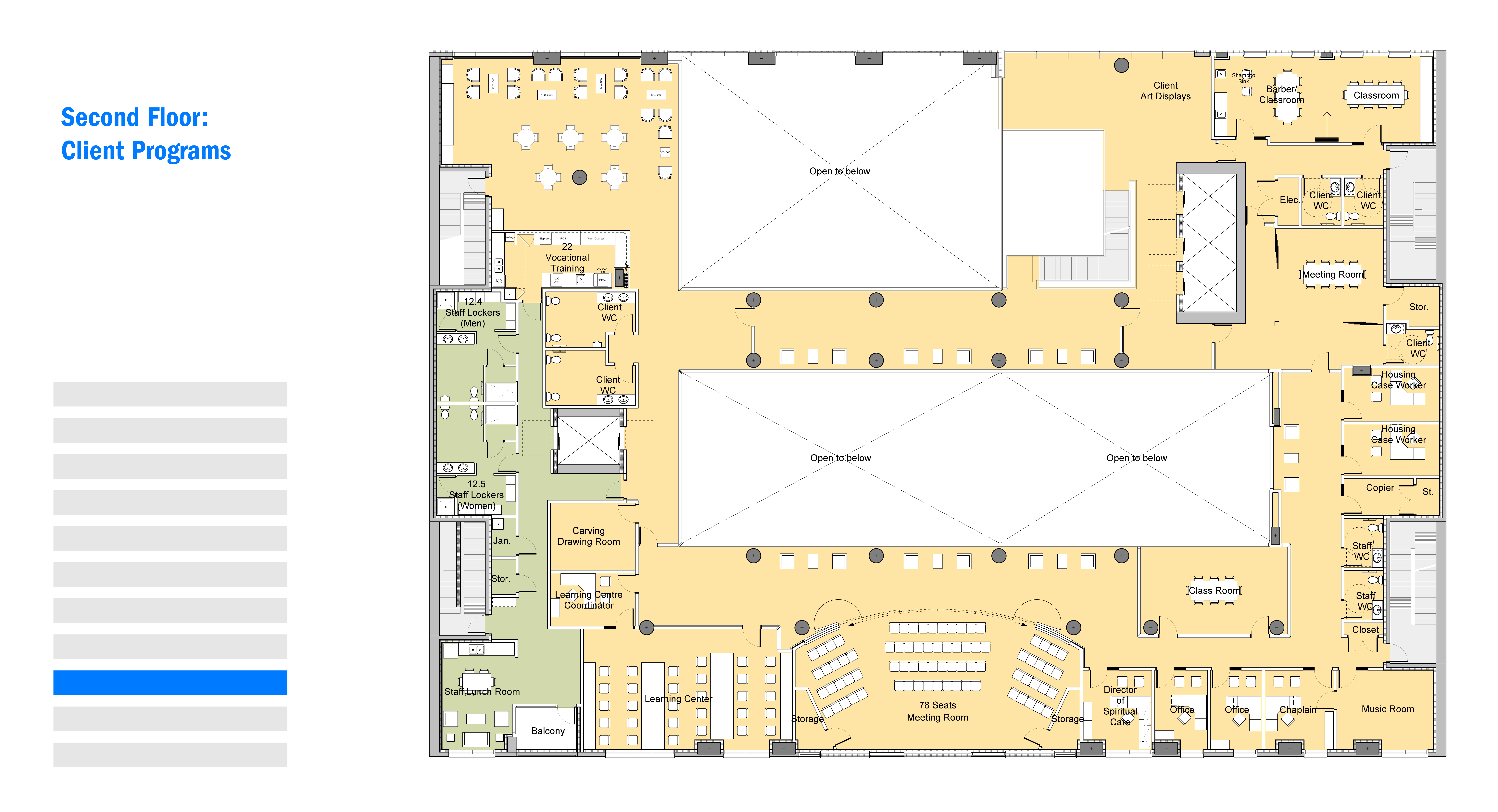 The second floor will be a place where clients can build their "recovery capital" with spaces for education programs, vocational training, creativity, and personal development. There will also be spaces for community meetings—such as NA/AA meetings—as well as welcoming spaces to meet and reunite with friends and family. The floor features dedicated spaces for music instruction, art, carving, and drawing areas for clients.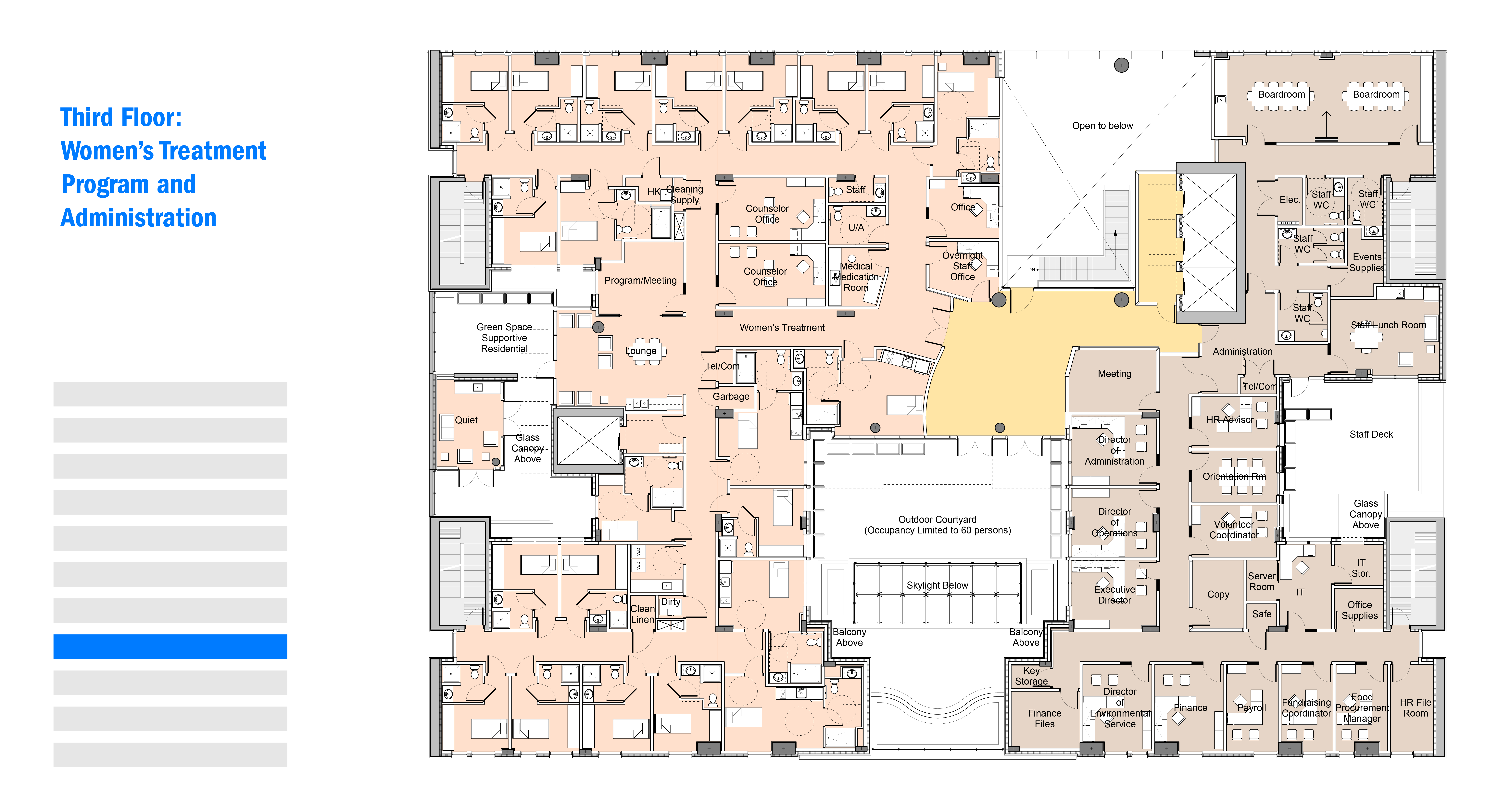 The third floor will house programming and residential spaces dedicated to serving the unique needs of women. This is a reprisal of our former Homestead Women's Treatment Program consisting of 22 new addiction treatment beds, which will also include four self-contained transitional housing units for women in the later phase of the program. Women will also have access to their own private outdoor green space and there will be an outdoor courtyard accessible to all clients.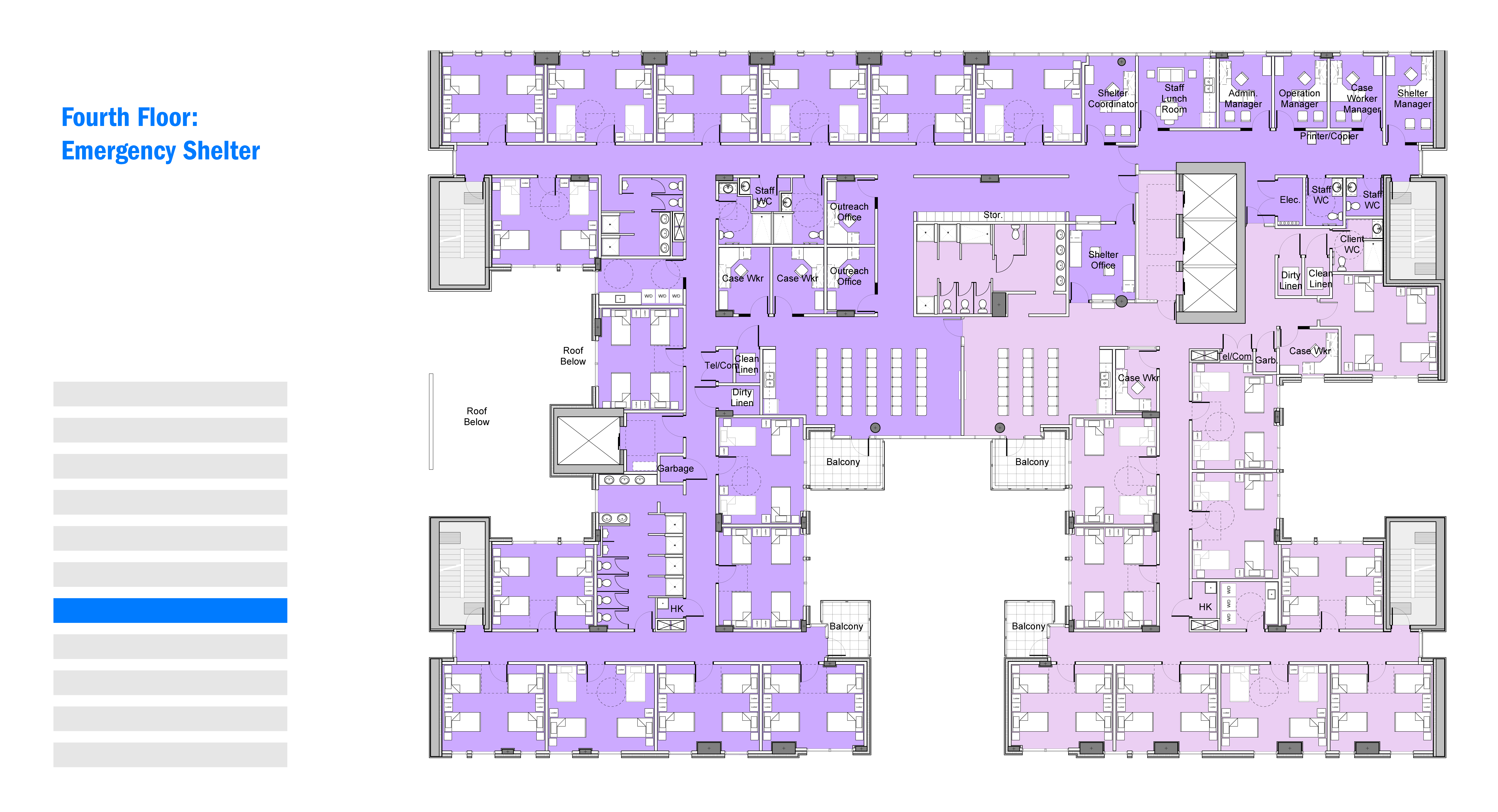 Two of VHL's existing 24-hour emergency shelters (The Beacon and The Haven) are housed on the 4th floor. With 60 and 40 beds respectively, including a combined 20 accessible beds our collective shelters will provide a safe place of refuge for 184 adults every night. Clients staying at these shelters are encouraged to work with our caseworkers and outreach teams to address their housing obstacles. Staff assists clients with employment, mental and physical health care, housing, social assistance, and other resources that will help them move to long-term housing. The floor features daily program activities, natural light, and access to fresh air and green spaces.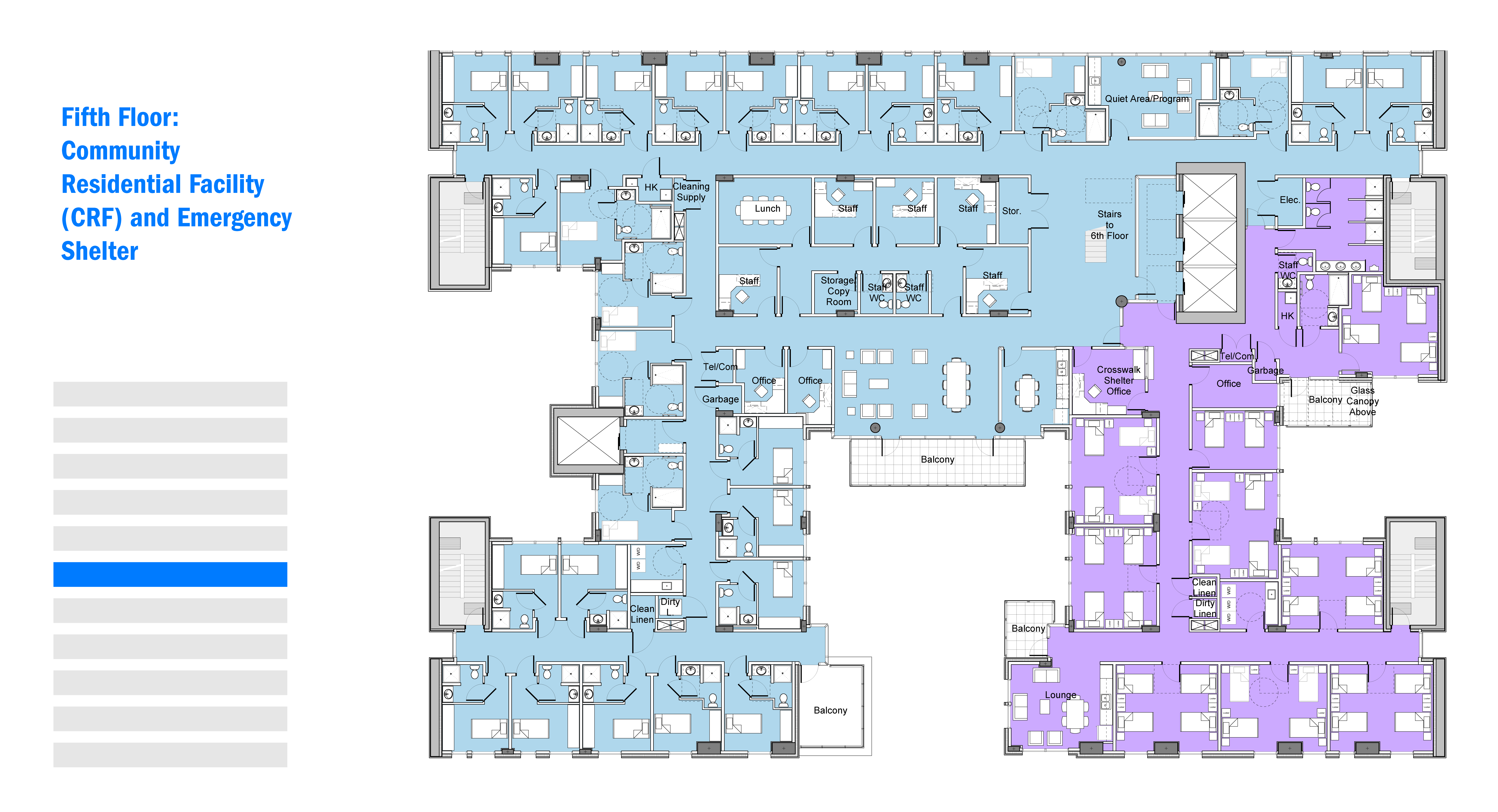 The fifth floor will house two separate programs: residential services and counselling support for up to 26 individuals on conditional release from federal institutions, offered in partnership with Correctional Services Canada. The overnight Crosswalk shelter provides 34 beds – including seven accessible beds – to the episodic or chronic homeless with severe challenges related to basic needs.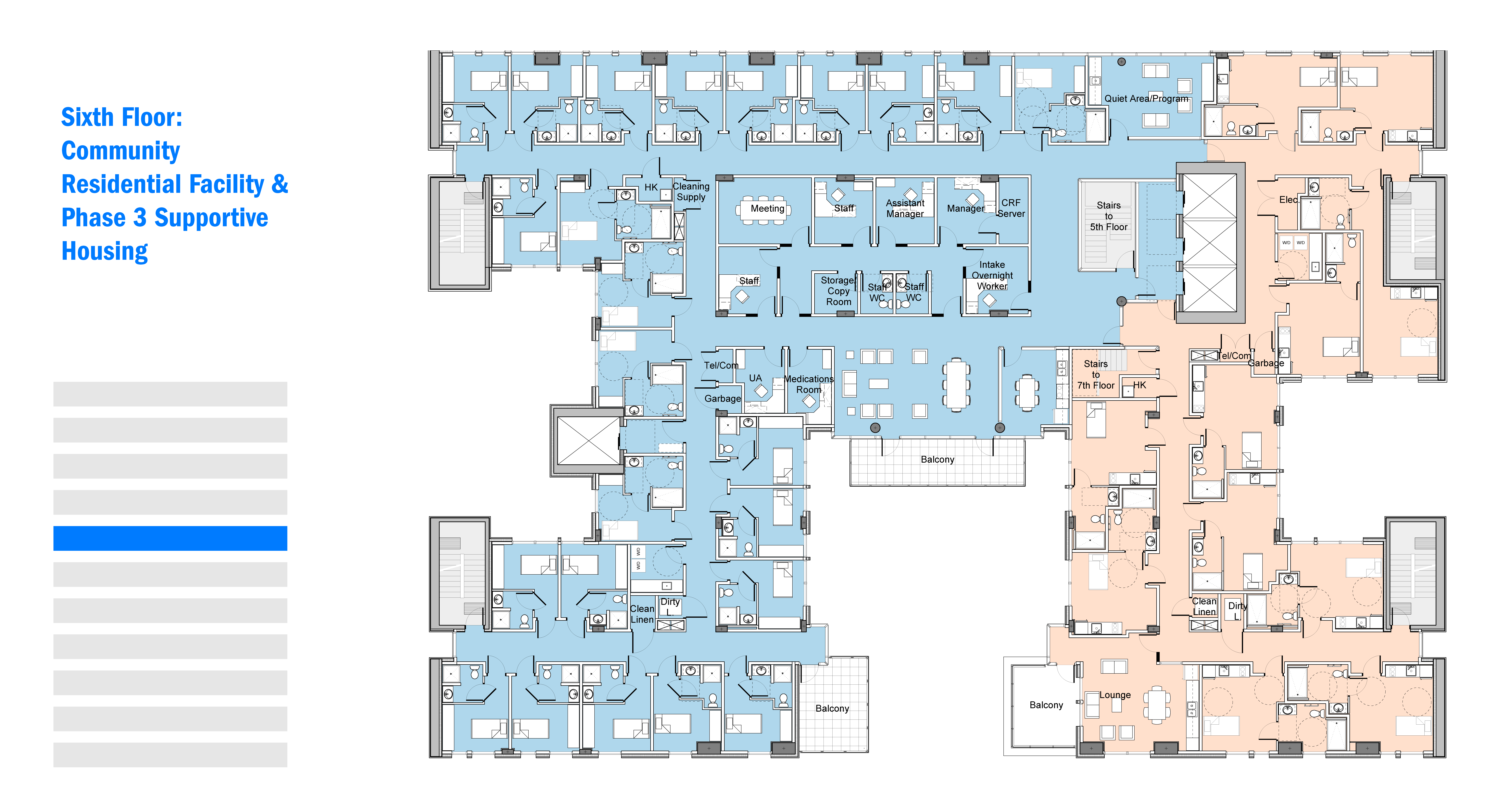 The Community Residential Facility space will extend to the sixth floor with 24 beds, including five accessible beds. As well, the floor will have 11 self-contained supportive housing units for men in the later phase of the addiction treatment program. While in supportive housing, clients are able to access the treatments and support to facilitate movement into housing in the community.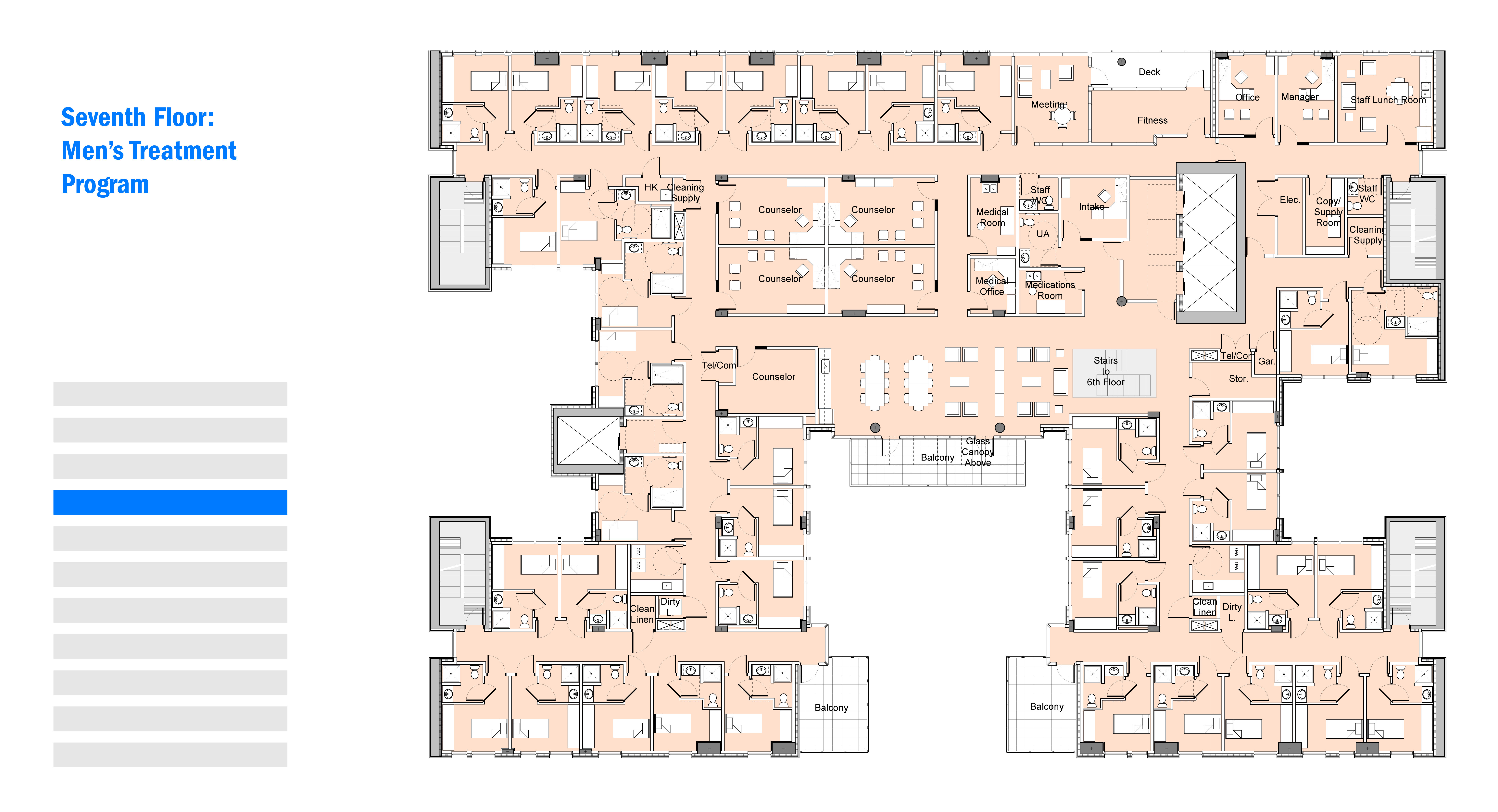 The seventh floor will have 37 individual rooms with private baths for men in addiction treatment programs. This floor will feature spaces for counselling and program delivery as well as spaces for recreation and fitness.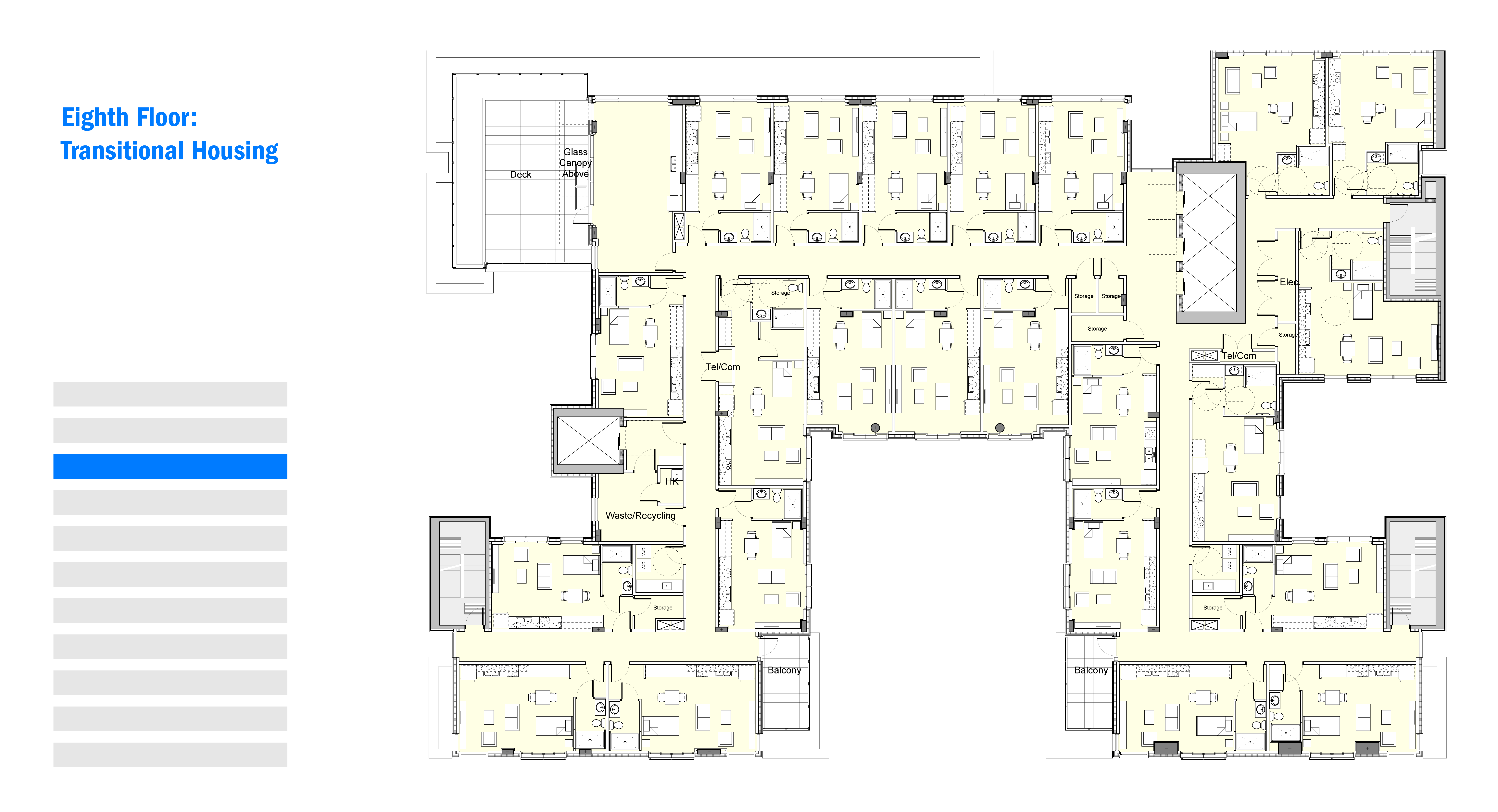 The eighth floor features 23 affordable single apartment units, with sliding rental costs based on income. Units will be available for up to 2 years to clients moving out of Vancouver Harbour Light programs and, in many cases, starting to gain employment income. Units will also be available to the growing vulnerable seniors' population, allowing them to age in place.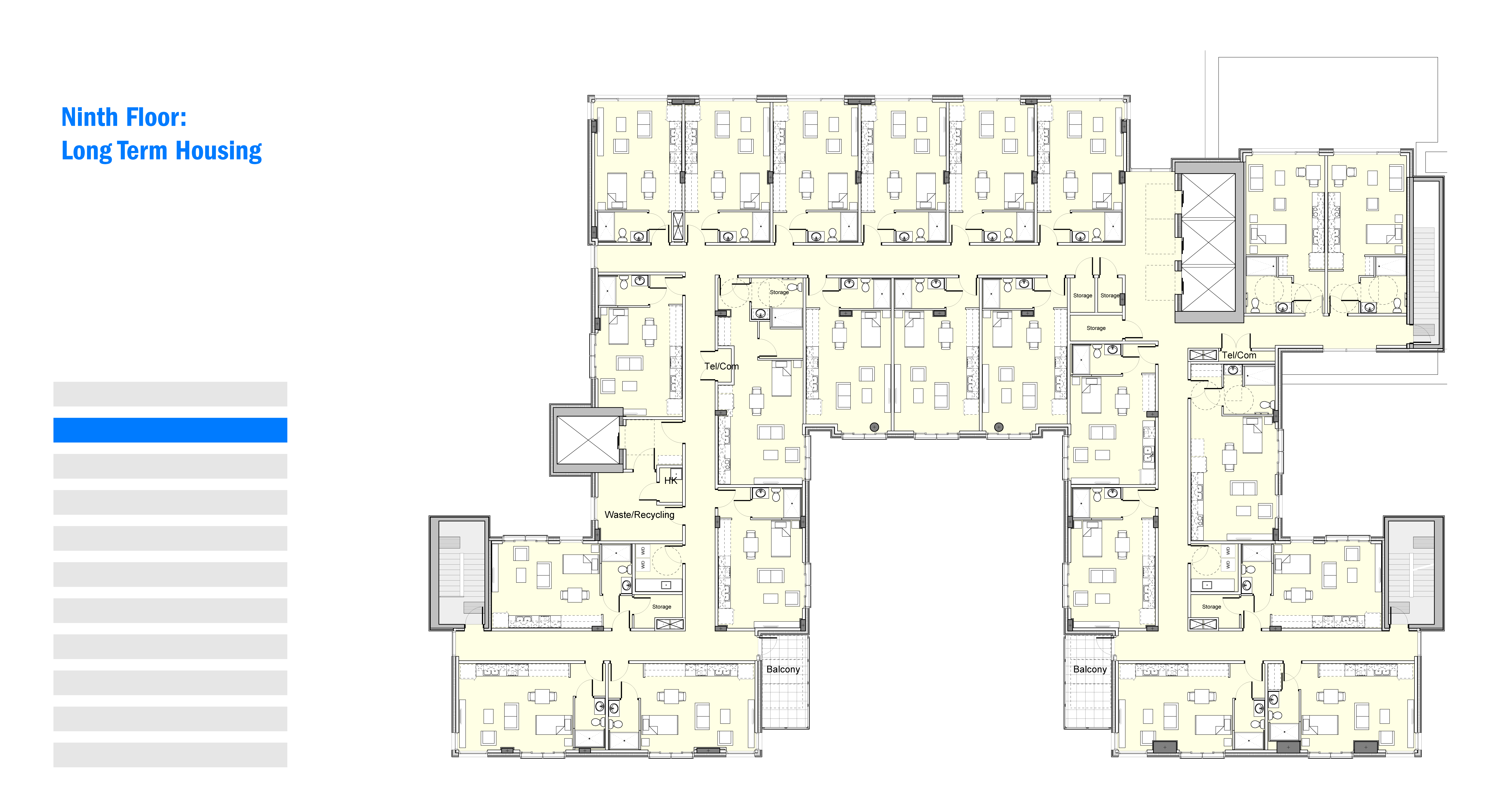 The top floor is home to The James McCready Residence and has 23 single long-term affordable housing units – including four accessible units – to graduates of the treatment and corrections programs.
Units are pet-friendly and available to the growing vulnerable seniors' population, allowing them to age in place.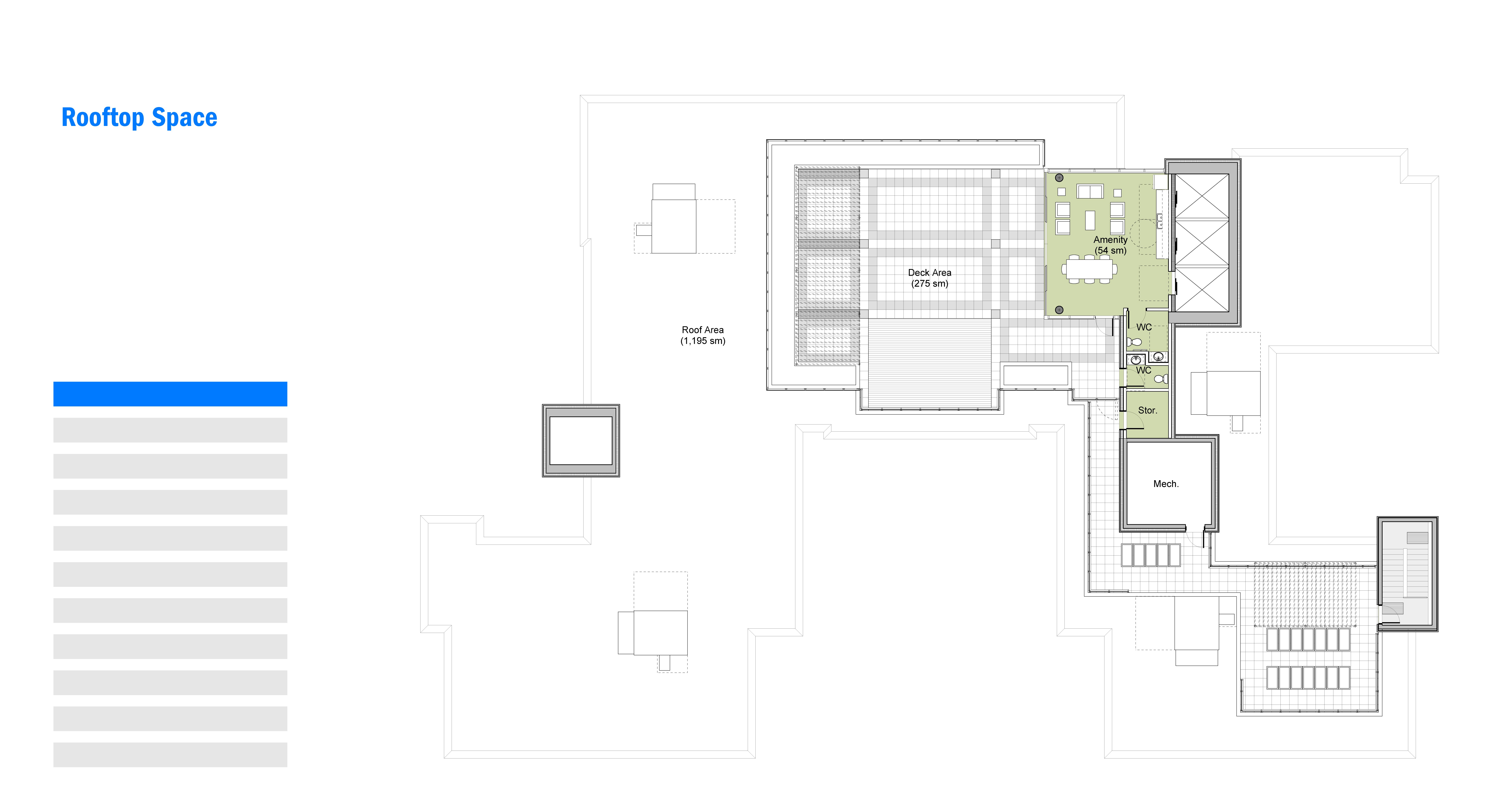 The rooftop space will be available to clients and staff and will feature a fully appointed indoor program space for group meetings and socials. The patio and garden space will be able to host up to 60 people for various programs and social functions. It will be a space to relax and enjoy the gardens, trees, and great views.
watch the construction progress live